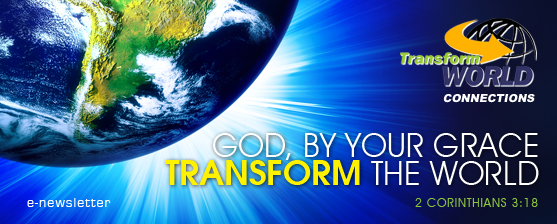 1-3 May 2018
Pathways to Greater Impact
Grand Canyon University
16-19 May 2018
Transform USA Summit
Jericho Center, Colorado Springs, USA
6-9 November 2017
TW 2020 Global Leadership Summit 2018
Addis Ababa, Ethiopia

Click this link to read latest updates from Million Village Challenge – Poverty Challenge Transform World!
Knowing, Feeling and Doing
I know a pastor whose study contains a desk, a kneeler, and couple of chairs. Sometimes the pastor will study something that leads him to praise God or feel a need to repent. He will quickly move from the desk to the kneeler. He uses the chairs for counseling, mentoring, and offering spiritual direction.
The Helmet and The Sword
We are in a battle! Daily, hourly, moment by moment we must face onslaughts from our implacable enemy the devil, aka Satan, the accuser, the deceiver, the liar, the tempter, the murderer and the thief. From his names alone, it is clear that he is not a nice person to be around, and he has been around for a very, very long time.
Prayer Topics
Please click on this link to read prayer topic about transformation.



 Transform World Connections
400 Orchard Road #07-01, Orchard Towers
Singapore 238875
Tel. (65) 6463 4695 Fax. (65) 6227 6084
International Facilitator: DR. Luis Bush
Chairman : Ps. Djohan Handojo
General Secretary: Ps. Harun
Website: www.transform-world.net
Email: info@transform-world.net
Contact Person:
Ps. Harun (harun@bcs.org.sg)
Ana Herlina (ana@bcs.org.sg)
Luis Bush – Servant Catalyst
Daniel Kim – Executive Chair TW 2020
John Hur – Global Coordinator
72 White Oak Circular, Saint Charles,
IL60174-4165, U.S.A

Transform World e-Newsletter:: April 2018