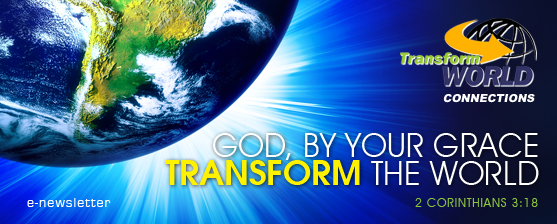 11-14 February 2016
The 1st Global Forum for a World Without Orphans
Chiang Mai, Thailand 
18-20 October 2016
4/14 Nurturer Event
Bali, Indonesia 
21-24 October 2016
TW 2020 Global Leadership Summit 2016
New Delhi, India
26-30 October 2016
Vision India 30,000 Youths & 5,000 Pastors
New Delhi, India

A new partnership together to Transform America for Christ
A couple months ago Luis Bush, Paul Cedar, T.C. Kim, Dai Sup Han, and Mark Beliles recognized the cohesion of the vision and the mission of Transform World 2020, Transform USA, Mission America's Love 2020 initiative, and the America Transformation Company (ATC).
They committed to henceforth work together which is why you are receiving this email. Each party is briefly described below followed by an introduction of Beliles and the America Transformation Company that will be leading this effort
Transform World Korea 2015 Education Sphere Report
Please click this link to read a report to follow up the last breakout sessions for Education Sphere we had at Transform World Korea 2015.
This report will explain the preparation, the actual process, and outcome of the sessions and discuss about what to be modified and advanced in the next meeting.
A New Movement Launces in Malawi
December 12, 2015 was the official launch of Malawi Without Orphans. It was such a great joy to see government officials, national leaders of networks, NGOs, and churches in Malawi coming together to connect and develop strategies on how to roll out a five year plan for Malawi Without Orphans.
Updates from Poverty Challenge
Please click this link to read updates from Poverty Challenge.
Wealth & Humility – A Match Made in Heaven
One of the greatest dangers marketplace ministers face – and it can be a very subtle one – is that, as we operate God's divine laws of financial blessing, and see multiplied wealth and power flowing, we forget where it all came from in the first place.
Please click on this link to read prayer topic about transformation.
RESOURCES: Seeds of the Kingdom
A free daily devotional material: inspiration, encouragement, teaching and challenge from Ellel Ministries International.
RESOURCES : Transformation Resources and Training
Do you need any resources or training about transformation? Then you may consider inviting these leaders to come and share their insights.



 Transform World Connections
400 Orchard Road #07-01, Orchard Towers
Singapore 238875
Tel. (65) 6463 4695 Fax. (65) 6227 6084
International Facilitator: DR. Luis Bush
Chairman : Ps. Djohan Handojo
General Secretary: Ps. Harun
Website: www.transform-world.net
Email: info@transform-world.net
Contact Person:
Ps. Harun (harun@bcs.org.sg)
Ana Herlina (ana@bcs.org.sg)
Luis Bush – Servant Catalyst
72 White Oak Circular, Saint Charles,
IL60174-4165, U.S.A

Transform World e-Newsletter :: February 2016