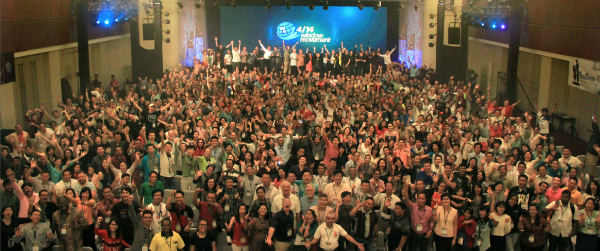 Tri Budiardjo, newly appointed executive secretary of the 4/14 Movement captured the essence of what transpired at the 4/14 Asian Pacific Youth Congress with the mandate of raising up a new generation – The 4/14 Movement is committed to raising up a new generation of disciple making nurturers from the youth and the children to transform the world by integrating youth into the main stream of the movement and uniting the generations in efforts to disciple youth and 4/14ers.  From this new strategic inspiration, the concept of "the Nurturer" was born who is ready to say "I am my brother's keeper."  We recognize that the call to nurture faith in Christ is not limited to church leadership or adults within the church. Tri spells the goals of the 4/14 Asian Pacific Youth Congress.
Our goals for the 4/14 Asian Pacific Youth Congress included the following:
Youth everywhere passionately give priority to making disciples of other youth and the 4/14ers in their community.
Local churches everywhere reflect inter-generational leadership with greater emphasis on empowering youth and adolescence to make disciple of their peers and the 4/14ers in the community.
The regionalization of the vision in the next 12 months.
The Challenge to Become a Nurturer was given by Bambang Budijanto, chairman of 4/14 Movement in PowerPoint titled "I am by brother's keeper." 
Download: I am by brother's keeper
Must read is:  "NO PLAN B – Calling the Next Generation to Christ's Radical Command" 
Download from http://4to14window.com/no-plan-b/
Results the 4/14 Asian Pacific Youth Congress:  As a result of 4/14 Asian Pacific Youth Congress the 4/1/4 Window Global Movement is embarking on climbing the "Second Mountain" which is to engage and empower youth in a Disciple Making Global Movement, while continuing to raise awareness among Christian leaders world-wide of the strategic importance of children for the church and mission. The ultimate end result of the Second Mountain vision is that there no single child live without being discipled by someone else.
Reaching toward that vision, the first global forum for youth, youth leaders and senior leaders to cast the vision of engaging youth in disciple making was held in Bali, Indonesia on April 20-24, 2015. More than 650 participants from 53 countries,  along with dozens of speakers, facilitators of breakout sessions, a worship team organized by over fifty local organizing   committee members, gathered, blended in a joyful, inspiring, transforming experience in an event that exceeded expectations of all. Inspiring speakers shared their hearts, life experience, biblical wisdom delivering powerful, eloquent messages supported by statistical evidence and Holy Spirit anointing which contributed to a life changing week for most, if not all present. Inspiring and lively worship throughout the Congress and during the Worship Celebration adding to the joyfulness, jubilance and the bliss of the event.
Immediate outcomes:  on May 6-8, 2015 a regional 4/14 Window forum for the Western region was held in Hovd, Mongolia for five different provinces. 60% were children and youth out of 186 total participants.  On May 7, 2015, the Cambodia National Leadership Team (National Coordination Committee) was formed. They plan to organize a national event by the end of 2015 for pastors and youth, targeting 1,000 participants. On May 13, 2015 an executive national core leadership team of 4/14 Window Movement in the Philippines composed of inter-generational members was formed to foster the Second Mountain commitment. On June 6, 2015, 1,000 children' participated in Prayer and Worship Day in Ulan Bataar, Mongolia. Also 1,000 children in Bayankhongor (northern province), 300-500 children in Omnogobi (south), Hovd (west), Darkhan (central).
June 10: The funeral service of Siga Arles, champion  of the youth and children of India and the world, who was with us in Bali and many 4/14 Window related events, who provided leadership in theological and missiological understanding, was held in the United Theological Campus, Bangalore where his wife Mrs. Nalini Arles is teaching. He will be missed by many.
Testimonies from participants: Several shared their testimony as did Petra Alexandru, 17 year old from Salatiga, who wrote:  "Being part of the 4/14 movement APYC Congress with the theme:  Nurturer – I Am my Brother's Keeper in Bali Indonesia, was a great experience for me. Before the congress I saw myself just an ordinary girl who follow what my leader ask me to do without knowing the purpose why should I do that, and I do not do it with all of my heart. I did not really care about others. This congress has opened my mind with what others need. I realized that not all people, especially my friends, have experience God's love and His blessings. In the Congress I made a commitment to tell about His love to those who never experienced it."
Hadassah Gualberto, 21 years old, from Manila, Philippines wrote: "The 4/14 Asia Pacific Youth Congress taught me to really have faith in God because He can do things far beyond my imagination. All the people I've met during the congress and their testimonies made me realize that I'm not alone in this movement. Youths from all over the world have been moving and changing lives by sharing God's love, His word to the young ones. Children are important to God. We are to value the lives of these children and lead them to a personal relationship with Jesus Christ."  
Rev. Mark Kobak Kave, 47 years a missionary to the Evangelical Church Indonesia, Papua wrote: "For me the one thing I want to do is to be a nurturer or be my brothers' keeper. And thank God, by His grace, my wife and I have started meetings with young teenagers, as a group, one on one or individually to mentor or nurture them in Christ. I have taken the young boys and my wife takes care of the young ladies. We are also yet to plan activities that is more holistic to do holistic disciple training."
Application: Youth Discipling Youth and Children using Jesus Discipleship Branch Plan
Download: Biblical Basis of Jesus Discipleship Branch Plan
Download: Practical Approach including Form used below
Sajida Iqbal reported from Lahore, Pakistan on May 15 that group of twenty 13 to 18 years olds are gathering for three month weekly Jesus Discipleship branch plan who "have fire to serve the Lord" plus younger group.
"Everyone enjoying…" she wrote.
From Yangon, Myanmar Paul Myint wrote on May 8 that he started a Jesus Discipleship Branch plan of fifteen young people from 13 to 25 years old.
A participant from the 4/14 Asian Pacific Youth Congress from China stared the Jesus Discipleship Branch Plan with a small group of 15 and 16 year-old-girls on May 31st. Another participant will be largest Church in Hangzhou on the 4/14 Movement to large group of late teens and teenagers on the 4/14 Window Movement.
Ismalia Diouf from Senegal expressed her plans to launch a Jesus Discipleship Branch Plan group in the near future.
Up Coming 4/14 Window Events in 2015
June 9-11, 2015, a regional 4/14 Window forum for the northern region in Bayankhongor, Mongolia, 250-300 participants from 4 provinces are expected to attend.
Mid June, Awana and Bless Viet Nam International will train for 150 youths in 5 days camp about Christian disciplines. It will consist of equipping the youth from 12-16 years old every year to be disciple makers in 400 children clubs with 20,000 children engage in those clubs. All adult leaders in all clubs are to disciple 4 children each year toward reaching 1,000,000 children by 2020.
June 22-26, 2015, Youth Conference at Chandigarh (Punjab) for 5,000 youth from J&K, Haryana, Himachal Pradesh, and Punjab.
Regional 4/14 Window forum for the Eastern Region will be held in Khentii, Mongolia, targeting 200 participants from 3 provinces in the last week of August.
October, 20-24 October 2015, Youth Conference in Saharanpur, Lucknow, UP for 5,000 youth from Bihar and UP.
October, 23-27 October 2015, Youth Conference at Kolkata (West Bengal) for 5,000 youth from Orissa, Jharkhand , West Bengal , Assam and Arunachal Pradesh.
Two key events in Europe, Europe Evangelical Alliance in Stuttgart, Germany October 5-8, 2015 and European Youth Ministry Network Summit Coma Ruga, near Barcelona, Spain October 13-15.
Cambodia 4/14 Window Leadership team will hold a National Conference where 1,000 pastors are expected to participate. Dates are to be determined. Please pray for a nation-wide breakthrough in Cambodia. The dates are to be determined.
Other 4/14 Window related events will be held in Africa during the remaining 2015 are in Swaziland, Zambia and South Africa. Kindly pray for those who are preparing for these events.