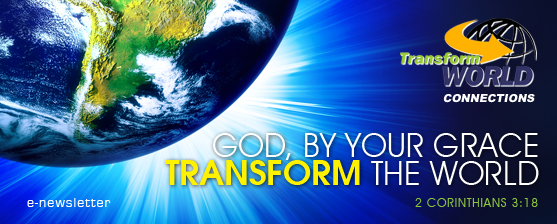 23-27 January 2017
Million Village Challenge Consultation
Dogongada, Nigeria
20-24 March 2017
Million Village Challenge Consultation
Kouba, Burkina Faso 
7-10 November 2017
TW 2020 Global Leadership Summit 2017
Latin America

Merry Christmas 2016 and Happy New Year 2017
May Christ's birth bring you abundant joy this Christmas and every day of the New Year.
For to us a child is born, to us a son is given, and the government will be on his shoulders. And he will be called Wonderful Counselor, Mighty God, Everlasting Father, Prince of Peace. Isaiah 9:6
Couch Potato not a 'Fruit of the Spirit'
Paul tells us in 1 Corinthians 6: 19-21, "Do you now know that your body is a temple of the holy Spirit, Who is in you, Whom you have received from God? You are not your own: you were bought at a price. Therefore honor God with your body."
Paul indeed talks in a number of places of disciplining our body, the importance of self control as a "fruit of the Spirit", and talks even of boxing and running a race – his way of telling us that God wants us to be the very best we can be for Him.
Updates from Celebration Challenge: Global Watch – Opportunities for Engagement
We are in times of increased spiritual intensity requiring stronger relations, collaboration, and communication to face the challenges today.  In spite of MANY powerful ministries, networks, houses of prayer that have emerged particularly over the past decade, we are living in increasingly turbulent times – increased terrorism, wars, natural disasters, loss of moral compass, displaced peoples – times of great urgency.
God is igniting the desire in believers to join, to stand shoulder to shoulder, sharpening one another in clear focus to equip us for the battle that lies ahead. We cannot stand alone.
Updates from Poverty Challenge
Lana and I are writing to you from Honolulu, Hawaii on Christmas eve day. We have just returned from amazing visits to Egypt (MVC Cairo), Washington DC (briefing for leaders from 8 countries) and Saddleback California (Finishing the Task). Although I got sick physically, my spirit soared as I began to see more of how our Lord is arranging history to insure that every precious soul on earth sees Him!
I BELIEVE WE WILL SEE THE MILLION UN-REACHED VILLAGES REACHED!
Please click on this link to read prayer topic about transformation.



 Transform World Connections
400 Orchard Road #07-01, Orchard Towers
Singapore 238875
Tel. (65) 6463 4695 Fax. (65) 6227 6084
International Facilitator: DR. Luis Bush
Chairman : Ps. Djohan Handojo
General Secretary: Ps. Harun
Website: www.transform-world.net
Email: info@transform-world.net
Contact Person:
Ps. Harun (harun@bcs.org.sg)
Ana Herlina (ana@bcs.org.sg)
Luis Bush – Servant Catalyst
72 White Oak Circular, Saint Charles,
IL60174-4165, U.S.A

Transform World e-Newsletter :: December 2016