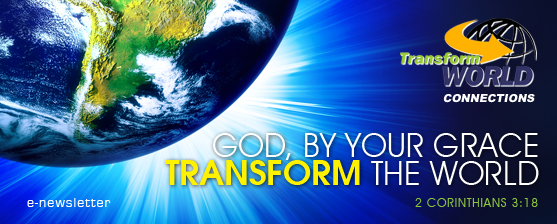 10-13 February 2020
MVC by Global CHE Network
Abuja, Nigeria
24-26 February 2020
MVC Conference
Pakistan
May 2020
MVC Conference
Pakistan
19-21 May 2020
4/14 Window New York Summit
New York, USA

How to Keep the Unreached Peoples … Unreached?

The most critical issue facing the mission of the Church today is the lack of clarity and understanding of what Jesus has asked us to do in Matt. 28:18-20, often referred to as the Great Commission.
Please click on this link to read prayer topics about transformation.



 Transform World Connections
400 Orchard Road #07-01, Orchard Towers
Singapore 238875
Tel. (65) 6463 4695 Fax. (65) 6227 6084
International Facilitator: DR. Luis Bush
Chairman: Ps. Djohan Handojo
General Secretary: Ps. Harun
Website: www.transform-world.net
Email: info@transform-world.net
Contact Person:
Ps. Harun (harun@bcs.org.sg)
Ana Herlina (ana@bcs.org.sg)
Luis Bush – Servant Catalyst
Daniel Kim – Executive Chair TW 2020
John Hur – Global Coordinator
72 White Oak Circular, Saint Charles,
IL60174-4165, U.S.A

Transform World e-Newsletter:: December 2019