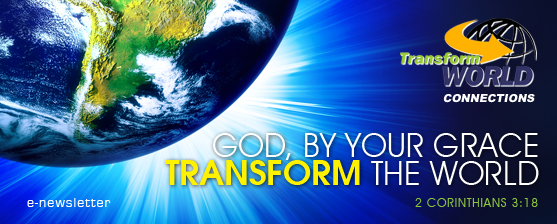 20-22 January 2018
Million Village Challenge Vision Casting
Bongour & Ndjamena, Chad
24-26 January 2018
Million Village Challenge Vision Casting
Maroua, Cameroon
19-24 March 2018
TCD Training for Central Africa Region
Bongour, Chad / Ngassa Mario's, Cameroon
6-9 November 2017
TW 2020 Global Leadership Summit 2018
Addis Ababa, Ethiopia

Facebook Page – TWGLS VI, Ecuador

This year's Transform World Global Leadership Summit VI was held on 31 Oct to 3 November 2017 in Guayaquil, Ecuador. Click this link to join the Facebook page!
Click this link to read latest updates from Million Village Challenge – Poverty Challenge Transform World!
What the Image of God Means for Our Dignity and Work
In a recent informal survey of undergraduate students at Regent University in Virginia Beach, VA, 27 percent of students asked expressed anxiety when considering their vocation. "Scared", "uneasy", "unsure", "confused", and "apprehensive" were common words in describing the way they felt about their future vocation.
We are Called to be Culture Missionaries
Like most Christians, I have always understood the "Great Commission" issued by Jesus in Mark 16:15, where he tells us to "go ye into all the world and preach the Gospel to every creature", to mean we are to go into the farthest and uttermost parts of the earth to evangelize the lost.
Please click on this link to read prayer topic about transformation.



 Transform World Connections
400 Orchard Road #07-01, Orchard Towers
Singapore 238875
Tel. (65) 6463 4695 Fax. (65) 6227 6084
International Facilitator: DR. Luis Bush
Chairman : Ps. Djohan Handojo
General Secretary: Ps. Harun
Website: www.transform-world.net
Email: info@transform-world.net
Contact Person:
Ps. Harun (harun@bcs.org.sg)
Ana Herlina (ana@bcs.org.sg)
Luis Bush – Servant Catalyst
Daniel Kim – Executive Chair TW 2020
John Hur – Global Coordinator
72 White Oak Circular, Saint Charles,
IL60174-4165, U.S.A

Transform World e-Newsletter :: November 2017