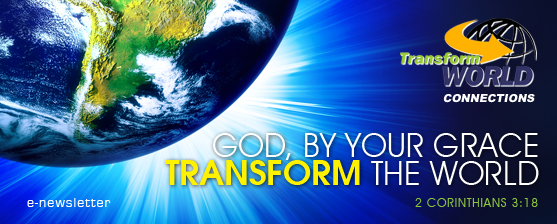 17-22 May 2020
MVC Conference
Bulgaria
20-23 October 2020
Transform World
Global Leadership Summit IX
Indonesia
9-11 March 2021
Transform North East India
Leadership Summit III
Dimapur, Nagaland
India


Open and Closed Doors

It is always exciting when God opens a door for us, as He did for Paul in Ephesus (1 Corinthians 16: 8). Paul clearly discerns that the open door is from God and that God is expecting him to walk through it. 
Patterns in Long-Lasting Movements

Movements in history are similar. While they are propelled by the wind of the Holy Spirit, God uses people to start them and plans to spread them. To see what long-lasting movements have in common, I have begun studying over a dozen movements in history that lasted over 100 years and impacted hundreds of thousands of people. 
Please click on this link to read prayer topics about transformation.



 Transform World Connections
400 Orchard Road #07-01, Orchard Towers
Singapore 238875
Tel. (65) 6463 4695 Fax. (65) 6227 6084
Servant of Transform World 2020: Dr. Luis Bush
TW Connections Chairman: Ps. Djohan Handojo
General Secretary: Ps. Harun
Executive Chair of TW2020: Ps. Daniel Kim
Global Coordinator: Elder John Hur
Website: www.transform-world.net

Contact Person:
Ps. Harun (harun@bcs.org.sg)
John Hur (hurs21@gmail.com)

Transform World e-Newsletter:: April 2020