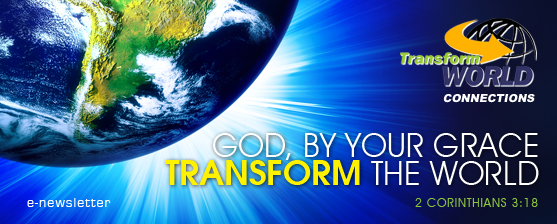 22-25 July 2020
Transformational Community 
Development Training
Hawaii
20-23 October 2020
Transform World
Global Leadership Summit IX
Indonesia
9-11 March 2021
Transform North East India
Leadership Summit III
Dimapur, Nagaland
India


Open and Closed Doors (Part II)

In my opinion, if God opens a door, it will be confirmed in many ways, and there will be no doubt. Equally, if God closes a door, any amount of kicking and pushing and shoving won't open it. 
Four Stages of a Movement

I stood in front of the American congregation and urged them to send short-term teams to my Asian people group. "On a two-week trip, you can win a household or two to faith and begin a church with them." They were tracking with me until the word "church." At that 400 sets of eyes glassed over.
Please click on this link to read prayer topics about transformation.



 Transform World Connections
400 Orchard Road #07-01, Orchard Towers
Singapore 238875
Tel. (65) 6463 4695 Fax. (65) 6227 6084
Servant of Transform World 2020: Dr. Luis Bush
TW Connections Chairman: Ps. Djohan Handojo
General Secretary: Ps. Harun
Executive Chair of TW2020: Ps. Daniel Kim
Global Coordinator: Elder John Hur
Website: www.transform-world.net

Contact Person:
Ps. Harun (harun@bcs.org.sg)
John Hur (hurs21@gmail.com)

Transform World e-Newsletter:: May 2020