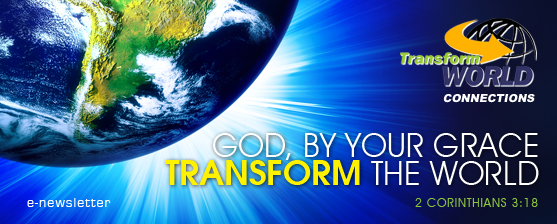 22-26 February 2021
TOT 1 
Arua city, West Nile
Uganda
22-27 February 2021
TOT 2
Arua city, West Nile
Uganda
18-19 March 2021
Transform North East India
Leadership Summit III
ONLINE

Getting Past the Myths of Partnering 

Just a few key things can make the difference between a distinctive, excellent organization and an average, ordinary one. In the 21st century ministry, it has to include the commitment and ability to partner well with others. 
Where did All the Girls Go?

Around the world, families face great pressure to have a son. Sons mean honor and prosperity; daughters are a financial and social liability. 
John Wesley's Plan for Multiplication

Wesley, the founder of Methodism, went to America hoping to convert the Indians. But he returned to England despairing of his own salvation, wondering, "Who shall convert me?"
Please click this link to read prayer topics about transformation. 



Transform World Connections
400 Orchard Road #07-01, Orchard Towers
Singapore 238875
Tel. (65) 6463 4695 Fax. (65) 6227 6084
TW Connections Chairman: Ps. Djohan Handojo
General Secretary: Ps. Harun
Executive Chair of TW2020: Ps. Daniel Kim
Global Coordinator: Elder John Hur
Website: www.transform-world.net

Contact Person:
Ps. Harun (harun@bcs.org.sg)
John Hur (hurs21@gmail.com)

Transform World e-Newsletter:: February 2021