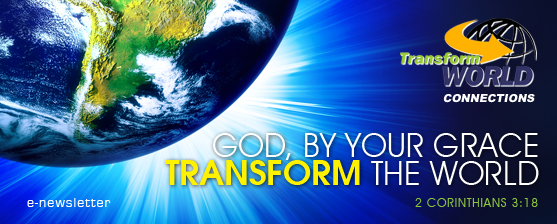 19-24 March 2018
TCD Training for Central Africa Region
Bongour, Chad / Ngassa Mario's, Cameroon
16-19 May 2018
Transform USA Summit
Jericho Center, Colorado Springs, USA
6-9 November 2017
TW 2020 Global Leadership Summit 2018
Addis Ababa, Ethiopia

Click this link to read latest updates from Million Village Challenge – Poverty Challenge Transform World!
Four Tips for Cultivating Character
Last month we looked at the importance of cultivating character to impacting culture. A revival of character can lead to a renewal of culture. But how do we cultivate such character?
Glory & Blessings from Offences
Because we are human, and because we live surrounded by other humans, we can be very sure of one thing – there will be no shortage of occasions in our lives to become upset and resentful because of other people. The Bible calls occasions such as these "offences".
Prayer Topics
Please click on this link to read prayer topic about transformation.



 Transform World Connections
400 Orchard Road #07-01, Orchard Towers
Singapore 238875
Tel. (65) 6463 4695 Fax. (65) 6227 6084
International Facilitator: DR. Luis Bush
Chairman : Ps. Djohan Handojo
General Secretary: Ps. Harun
Website: www.transform-world.net
Email: info@transform-world.net
Contact Person:
Ps. Harun (harun@bcs.org.sg)
Ana Herlina (ana@bcs.org.sg)
Luis Bush – Servant Catalyst
Daniel Kim – Executive Chair TW 2020
John Hur – Global Coordinator
72 White Oak Circular, Saint Charles,
IL60174-4165, U.S.A

Transform World e-Newsletter:: March 2018