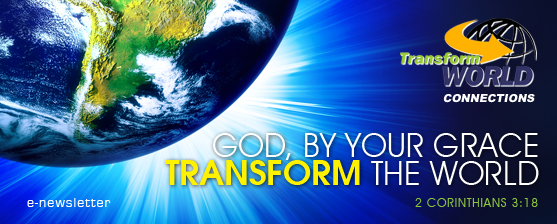 16-19 May 2018
Transform USA Summit
Jericho Center, Colorado Springs, USA
2-3 June 2018
Urban TCD – in French language
(Transformational Community Development)
Geneve
11-16 June 2018
Urban TCD
(Transformational Community Development)
Chad & Cameroon
6-9 November 2017
TW 2020 Global Leadership Summit 2018
Addis Ababa, Ethiopia

Registration to join Transform World Global Leadership Summit VII, to be held in Addis Ababa, Ethiopia from 6-9 November 2018 is open. please click
here
to register.
TFW Poverty Challenge and Million Challenge Update
Click this link to read latest updates from Million Village Challenge – Poverty Challenge Transform World!
Who Is Doing God's Work?
How many of us feel our work is not "spiritual" enough or doesn't matter in God's grand design? Understanding this concept of a "priesthood of all believers" can help us see how all our vocations bear great importance.
Prayer Topics
Please click on this link to read prayer topic about transformation.



 Transform World Connections
400 Orchard Road #07-01, Orchard Towers
Singapore 238875
Tel. (65) 6463 4695 Fax. (65) 6227 6084
International Facilitator: DR. Luis Bush
Chairman : Ps. Djohan Handojo
General Secretary: Ps. Harun
Website: www.transform-world.net
Email: info@transform-world.net
Contact Person:
Ps. Harun (harun@bcs.org.sg)
Ana Herlina (ana@bcs.org.sg)
Luis Bush – Servant Catalyst
Daniel Kim – Executive Chair TW 2020
John Hur – Global Coordinator
72 White Oak Circular, Saint Charles,
IL60174-4165, U.S.A

Transform World e-Newsletter :: May 2018