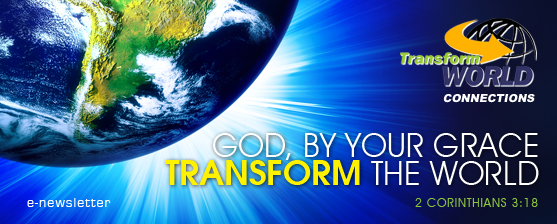 25-28 October 2018
Serve the City Outreach to Urban Poor
Dublin, Ireland
6-9 November 2018
TW 2020 Global Leadership Summit 2018
Addis Ababa, Ethiopia
13-16 November 2018
MVC East Africa, Focus on Horn of Africa
Nairobi, Kenya
14-16 November 2018
Million Challenge Village Consultation
Bouaké, Côte d'Ivoire
20-22 February 2019
Million Challenge Village Consultation
Zambia

Transform World Global Leadership Summit VII will be held in Addis Ababa, Ethiopia from 6-9 November 2018. 
World-Shaking Worldview
We live in a complex and often confusing world. If we do not understand with our mind what we believe, then we are at the mercy of "every wind of opinion" and every new-age messiah with the latest ratbag revelation.
Prayer Topics

Please click on this link to read prayer topic about transformation.



 Transform World Connections
400 Orchard Road #07-01, Orchard Towers
Singapore 238875
Tel. (65) 6463 4695 Fax. (65) 6227 6084
International Facilitator: DR. Luis Bush
Chairman : Ps. Djohan Handojo
General Secretary: Ps. Harun
Website: www.transform-world.net
Email: info@transform-world.net
Contact Person:
Ps. Harun (harun@bcs.org.sg)
Ana Herlina (ana@bcs.org.sg)
Luis Bush – Servant Catalyst
Daniel Kim – Executive Chair TW 2020
John Hur – Global Coordinator
72 White Oak Circular, Saint Charles,
IL60174-4165, U.S.A

Transform World e-Newsletter:: October 2018