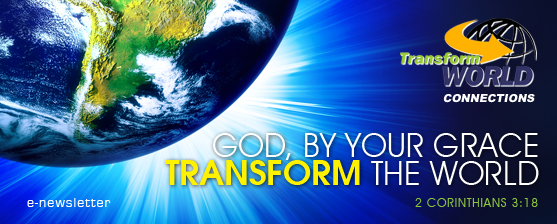 10-13 August 2020
RESET
Int'l Watchmen Summit
ONLINE
20-22 October 2020
Transform World
Global Leadership Summit IX
ONLINE
9-11 March 2021
Transform North East India
Leadership Summit III
Dimapur, Nagaland
India

A Church Prepared for the Worst

As I write, the world is reeling from the effects of the coronavirus. In times like these, we need a Church that is prepared for the worst.
K.I.S.S or K.I.C.K

We all know the acronym K.I.S.S. (Keep It Sweet and Simple). Paul, himself a highly educated and sophisticated man, had learned the lesson of simplifying his life so that he was able to focus all his energy and power on only the things that really mattered.
Prayer Topics
Please click on this link to read prayer topics about transformation.



Transform World Connections
400 Orchard Road #07-01, Orchard Towers
Singapore 238875
Tel. (65) 6463 4695 Fax. (65) 6227 6084
Servant of Transform World 2020: Dr. Luis Bush
TW Connections Chairman: Ps. Djohan Handojo
General Secretary: Ps. Harun
Executive Chair of TW2020: Ps. Daniel Kim
Global Coordinator: Elder John Hur
Website: www.transform-world.net

Contact Person:
Ps. Harun (harun@bcs.org.sg)
John Hur (hurs21@gmail.com)

Transform World e-Newsletter:: August 2020