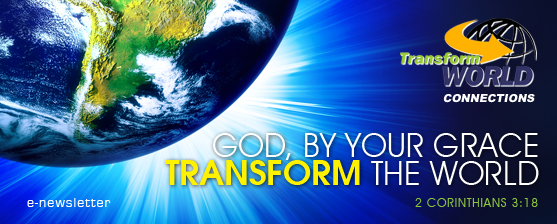 24-29 August 2020
Children #39's CHE
Arua
Uganda
20-23 October 2020
Transform World
Global Leadership Summit IX
9-11 March 2021
Transform North East India
Leadership Summit III
Dimapur, Nagaland
India

From Poverty to Prosperity
Ingrained in our collective Christian memory for some reason is a lingering sense that poverty is somehow holy and sacred, while wealth and prosperity are "worldly" and somehow evil.
The Birth of a Movement
Through his struggle, Francis Asisi found God's calling: He would do what Jesus commanded and proclaim the message of the kingdom of heaven, trusting God to provide everything he needed.
Please click on this link to read prayer topics about transformation.



 Transform World Connections
400 Orchard Road #07-01, Orchard Towers
Singapore 238875
Tel. (65) 6463 4695 Fax. (65) 6227 6084
Servant of Transform World 2020: Dr. Luis Bush
TW Connections Chairman: Ps. Djohan Handojo
General Secretary: Ps. Harun
Executive Chair of TW2020: Ps. Daniel Kim
Global Coordinator: Elder John Hur
Website: www.transform-world.net

Contact Person:
Ps. Harun (harun@bcs.org.sg)
John Hur (hurs21@gmail.com)

Transform World e-Newsletter:: July 2020