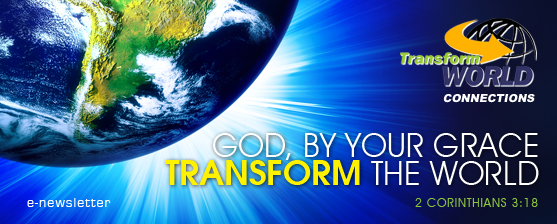 6-10 October 2020
CHE/TCD/CDE Training
Koubah, Ouagadougou
Burkina Faso
20-22 October 2020
Transform World
Global Leadership Summit IX
ONLINE
9-11 March 2021
Transform North East India
Leadership Summit III
Dimapur, Nagaland
India

Six Ways to Bear Witness in a Pandemic 

The Covid-19 pandemic is a time of much fear: fear of hunger, loneliness, lockdowns, poverty, even death. It's also a time of loss. Amid this fear and uncertainty, how do we bear witness to Christ and His Kingdom? 
You are invited! 

Due to Covid-19 restrictions, we are shifting this year's Transform World Global Leadership Summit IX to a VIRTUAL SUMMIT from 20-22 October 2020. Click "
HERE
" to find both of our invitation letter and registration link in English and Spanish!
Million Village Challenge Updates 
Please click on this link to read updates on Million Village Challenge!



Transform World Connections
400 Orchard Road #07-01, Orchard Towers
Singapore 238875
Tel. (65) 6463 4695 Fax. (65) 6227 6084
Servant of Transform World 2020: Dr. Luis Bush
TW Connections Chairman: Ps. Djohan Handojo
General Secretary: Ps. Harun
Executive Chair of TW2020: Ps. Daniel Kim
Global Coordinator: Elder John Hur
Website: www.transform-world.net

Contact Person:
Ps. Harun (harun@bcs.org.sg)
John Hur (hurs21@gmail.com)

Transform World e-Newsletter:: September 2020