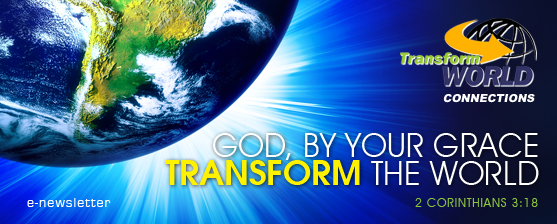 11 April 2016
4/14 Window Forum VIII
The Next Generation & Media
Looking for Ways of Good Use
South Korea
12-15 April 2016
Transform World North East India Conference
India
23-26 May 2016
National Transformation Consultation
Indonesia
9-11 August 2016
TW 2020 Africa 2016 Conference
Nairobi
18-20 October 2016
4/14 Nurturer Event
Bali, Indonesia
21-25 October 2016
TW 2020 Global Leadership Summit 2016
New Delhi, India
26-30 October 2016
Vision India 30,000 Youths & 5,000 Pastors
New Delhi, India

National Consultation: Connections for Transformation
National Consultation: Connection for Transformation is going to be held at SICC Tower & Harris Sentul City, West Java – Indonesia on 23-26 May 2016. This consultation will focus on 3 main topics: mission movement, one million village movement and youth movement with the aims to build a sinergy among national Christian Leaders and to act as a transformation movement platform that will bring great impacts to the nations.
Speakers in this consultation include Dr. Luis Bush (USA), John Hur and other Indonesian leaders such as Ps. Niko Njotorahardjo, Dr. Iman Santoso, Y.W. Junardy, Ps. Rio Sibarani, Ps. Jose Carol, Dr. Bambang Budijanto and Ev. Yoel Sasongko.
For more information about this event, please visit www.transformindonesia.org
A Historic Step Towards a World Without Orphans
Making history, the Global Forum for a World Without Orphans was held on 11-14 February 2016 in Chiang Mai, Thailand. For four days, 450 leaders from 60 countries gathered to activate, connect, and equip the Body of Christ worldwide to address the orphan crisis and see every child growing up in a nurturing permanent family.
TW 4/14 Window Movement's Latest Updates
Please click this link to read January & February's updates of TW 4/14 Window Movement.
Make China a Blessing to All Nations: Now is the time for China Mission 2030
According to the opening speaker, there were 67 Churches church who served as the main sponsors with a total of 132 churches involved, along with 21 training, education and mission institutions. There were 52 workshops.
Motivated by the Word of God, by a profound sense of missional gospel debt and by a call to the completion of the missionary task, the servant of God who conceived China Mission 2030 spoke on the topic of Mission China 2030: Vision and Strategy
Please click on this link to read prayer topic about transformation.
RESOURCES: Seeds of the Kingdom
A free daily devotional material: inspiration, encouragement, teaching and challenge from Ellel Ministries International.
RESOURCES : Transformation Resources and Training
Do you need any resources or training about transformation? Then you may consider inviting these leaders to come and share their insights.



 Transform World Connections
400 Orchard Road #07-01, Orchard Towers
Singapore 238875
Tel. (65) 6463 4695 Fax. (65) 6227 6084
International Facilitator: DR. Luis Bush
Chairman : Ps. Djohan Handojo
General Secretary: Ps. Harun
Website: www.transform-world.net
Email: info@transform-world.net
Contact Person:
Ps. Harun (harun@bcs.org.sg)
Ana Herlina (ana@bcs.org.sg)
Luis Bush – Servant Catalyst
72 White Oak Circular, Saint Charles,
IL60174-4165, U.S.A

Transform World e-Newsletter :: March 2016