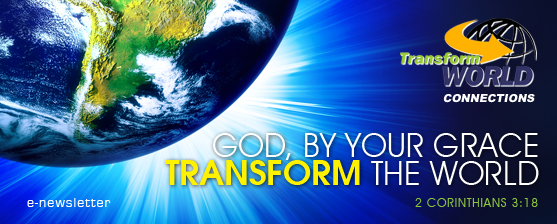 May 2021
Share your faith through 
digital outreach
Accept the challenge
HERE
7-11 June 2021
Training of Trainers I
Community Health & Evangelism
Nairobi, Kenya
12-15 July 2021
Training of Trainers I
Community Health & Evangelism
ONLINE

Becoming the Kind of Person God Can Use to Launch Movements (Part II)

As humans, we like to be doers. We are always learning, searching, reading, and talking to people about what is the most effective strategy or fruitful practice we can use to bring the maximum number of people into the kingdom as quickly as possible. In the midst of this, it's easy though to lose sight of other things just as vital, like the importance of being the kind of people who reflect Christ to a hurting world. 
TFW Poverty and Million Village Challenge's Updates

Click this link to read the latest updates from the TFW Poverty Challenge and the Million Village Challenge Movement.
Please click this link to read prayer topics about transformation. 



Transform World Connections
400 Orchard Road #07-01, Orchard Towers
Singapore 238875
Tel. (65) 6463 4695 Fax. (65) 6227 6084
TW Connections Chairman: Ps. Djohan Handojo
International Facilitator TW2033: Ps. Ricardo Luna
General Secretary: Elder John Hur
Website: www.transform-world.net

Contact Person:
Ps. Harun (harun@bcs.org.sg)
John Hur (hurs21@gmail.com)

Transform World e-Newsletter:: May 2021