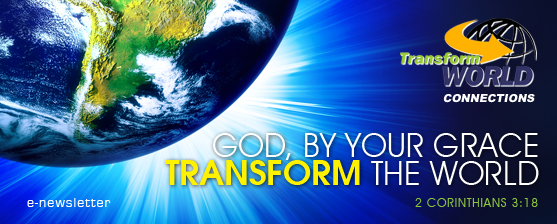 Lesson in Mission Strategy from the Last 50 Years

This is the day the Lord has made, we shall rejoice and be glad in it as we consider the past and future of evangelical mission by contemplating 30 mission trends of the past 50 years that have impacted the cause of Christ. These mission trends are listed sequentially by date with a brief accompanying explanation. 
Three Ways We Stiffle S.W.A.P

In his book, Spirit Walk, Steve Smith presents a pathway to walk in the Spirit via the acronym S.W.A.P: (1) Surrender to His will and His every word (2) Wait on God in prayer (3) Avoid sin, and let God root out all unrighteousness (4) Pursue the promptings of the Spirit
International Wholistic Mission Conference 2021 

This conference is conducted online on
Oct 13-14 Oct (Regional Roundtables)
and
Oct 15 (Global Summit)
. Click
HERE
for free registration!
Please click this link to read the prayer topic for transformation.



Transform World Connections
400 Orchard Road #07-01, Orchard Towers
Singapore 238875
Tel. (65) 6463 4695 Fax. (65) 6227 6084
TW Connections Chairman: Ps. Djohan Handojo
International Facilitator TW2033: Ps. Ricardo Luna
General Secretary: Elder John Hur
Website: www.transform-world.net

Contact Person:
Ps. Harun (harun@bcs.org.sg)
John Hur (hurs21@gmail.com)

Transform World e-newsletter:: August 2021